Yeah!! I finally finished my shabby fabric wreath that I had blogged about doing in a previous post. I tried to incorporate some fallish colors for the season.
I have also been inspired to recover some of my couch cushions. I started with this one and love how it came out! Now on to the big cushions!
Also, I wanted to share with y'all what I ordered from Amazon last week. We gave it a test drive yesterday. It was so much fun! And with both of them in there, I got quite the workout going up our little hills!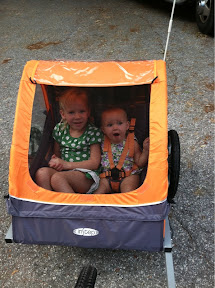 Brad and Grace had come home with a bike one day for my birthday. But since I always have a little munchkin in tow, I have really not been able to use it.....until now.
Mom gave me these shoe holders awhile back and I finally found a new use for them storing all Grace's stuffed animals. I think they look much better and Grace loves it!!
I love you girls and miss you dearly!!
- Posted using BlogPress from my iPhone